Scrumban was created to facilitate the transition of Scrum teams to Lean and Kanban concepts.
Scrumban was created to facilitate the transition of Scrum teams to Lean and Kanban concepts.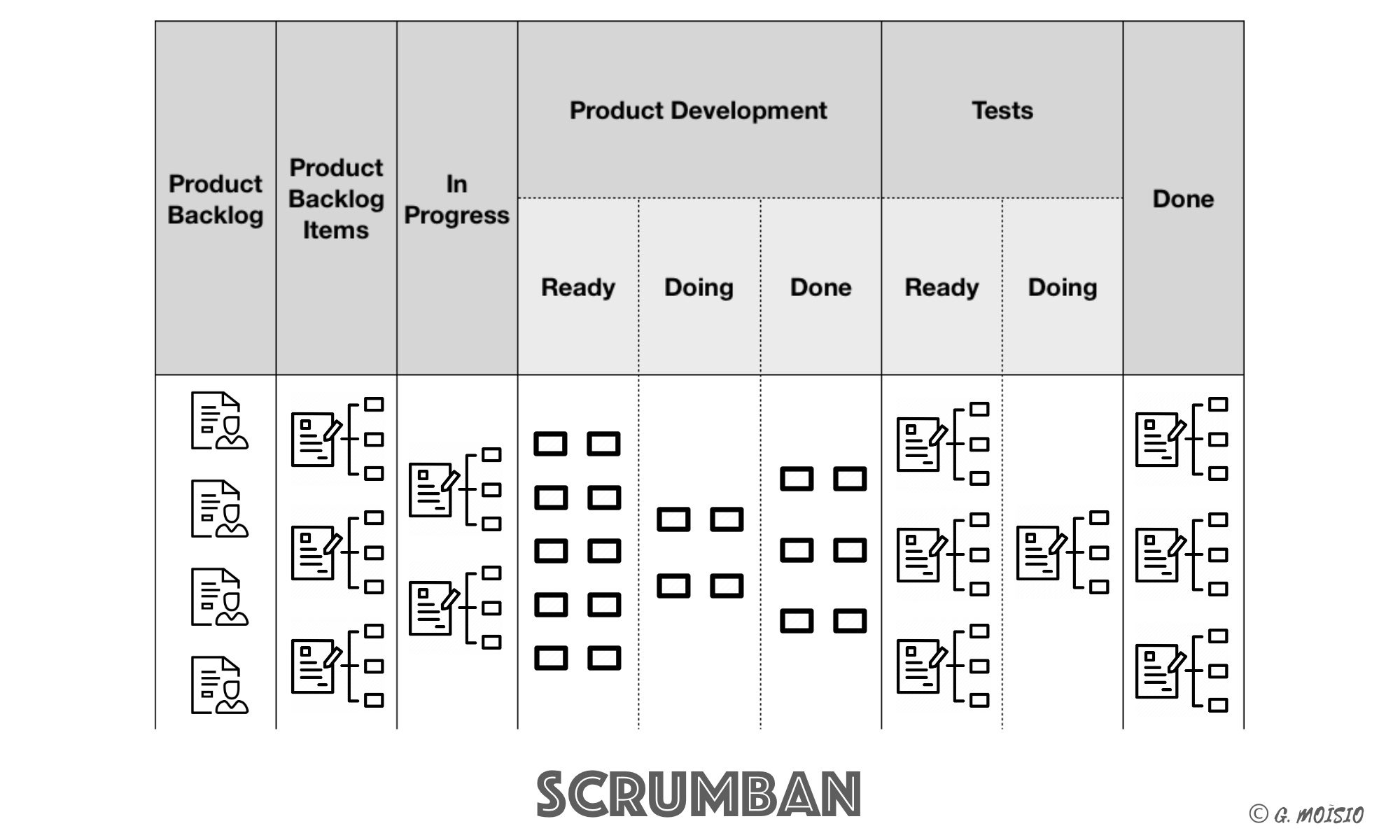 Scrum defines a management method for product development teams based on the concept of sprints. Kanban, on the other hand, is a set of workflow management principles inherited from the industry.
This mix is found in the following practices that Scrumban teams often use :
Iterations in Scrumban are short to allow the team to adapt quickly if the environment is constantly changing.The flow exhaustively represents all the activities required to complete a task (e.g. Analysis, Ready, Dev, Code review, Test, Done, Deployment).On-demand planning: sprint planning no longer exists in Scrumban. Planning sessions are triggered when the number of stories and tasks in the backlog falls below a defined threshold (for example, the planning session is only triggered when there are only 2 stories left in To do).Introduction of WIP limits to force each team member to work on a single task at the same time and To do limits for tasks or stories in the backlog in order to have more efficient planning sessions.When a member completes a task, he or she pulls another one (pull system). He starts a new task only if the flow is free (no task already in progress requires the intervention of the team).
Here are three popular examples of Scrumban on a Kanban base:
Enriching the Kanban approach with the three Scrum roles (Product Owner, Scrum Master, Development Team) for a clearer definition of roles and responsibilities on the project.
The addition to Kanban of Scrum and agile events such as the daily meeting, the refinement backlog, the retrospective or the demonstration part of the sprint review to facilitate working together.
The establishment of a delivery schedule, every two or three weeks for example, to mark progress and get regular feedback on the product.
---